Striking paintings rendered in pigments from across the sea.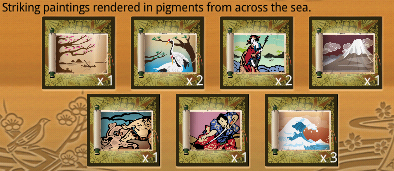 This treasure set can be found in Mt Zen - White Oblivion and Mt Zen - A Dojo with a View
Pieces of Treasure
Sakura Scroll
Sakura symbolizes change. The joy of spring arriving, and the sorrow to see it go.
Northern Sky Crane Scroll
Two cranes dance together under a northern winter sky, living in the moment.
Wandering Geisha Scroll
Sound is color. A Geisha, who wanders from one town to the next, knows not what it means to "settle down".
Sublime Mountains Scroll
Mountains are wise. They know of all the sadness and joy that humans have unfurled.
Compelling Sumo Scroll
His appearance depicts his caliper. All who observe him are enchanted by his might and manner.
Splendid Samurai Scroll
The sword is an art. A samurai's swordplay and bushido are said to be one and the same.
Furious Sea Scroll
Waves are like the human heart. Sometimes calm, sometimes violent, and sometimes breathtakingly beautiful.
Collection Reward
Steel Dagger
Links to Other Pages