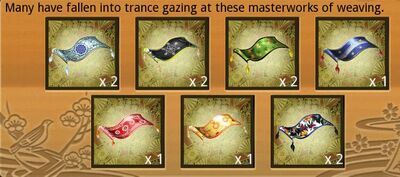 Many have fallen into trance gazing at these masterworks of weaving.
Pieces of Treasure
Blue Roses
One of the favored motifs from a desert region known for its extraordinary weavers and glassblowers.
Molecula Maleficarum
Persistent rumors of occult use swirl around this rug, as does the suspicion that it may be a chemistry lesson in disguise.
Jade and Gold
Once there were two warring kingdoms as different as metal and stone. Thread spun in both lands were woven into a single rug, the seal the peace.
Heaven Knows
A code wrought in silk and wool, and worn thin by human curiosity. Traced in a certain order, the stars are said to reveal a message.
Red Carpet
The original sign of lavish welcome, this red carpet was unrolled under the desert sun, rather than the flash of a hundred cameras.
Blessed Be
Awarded only to the brightest, this item of great prestige is carried away with the student to life beyond the desert, as a reminder of their roots.
Flower of Many Petals
Dates back to the time when a civilization of many cultures held sway over the desert, with each hue representing a people.
Collection Reward
Monkey Buddy
Links to Other Pages