Base Camp is the first path of the Ninja Royale world map.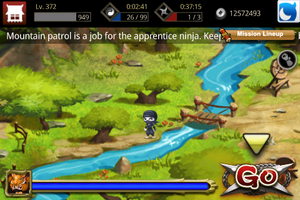 Missions
There are 5 missions to this path

Basic Training: Ninja Stars
The star is the most basic of Ninja weapons. Try hitting the targets.
- 3 energy
+ 15-20 zeny
Basic Training: Sword
Swordsmanship determines the victor in close range combat. Try slashing through the row of scarecrows!
- 3 energy
+ 17-22 zeny
Keeping the Peace
Mountain patrol is the job of an apprentice ninja. Keep the village free of bad sort!
- 3 energy
+ 18-24 zeny
Find Your Zen
Training begins with letting go, and embracing nature. Only then will you see what to strike, what to slash.
- 3 energy
+ 24-35 zeny
Lumberjack Ninja
Time and foes never stand still. Now, try hitting a moving target with a sword
- 3 energy
+ 36-43 zeny
Boss
Senior Ninja Hebimaru is the boss you fight on this path.
Storyline
Treasures
2 different treasure sets can be found on this path
Flagons - when completed earns a tool called First Compass
Plates - when completed earns a weapon called Iron Claws