A Dojo with a View is the fifth path of the Ninja Royale World 1 map.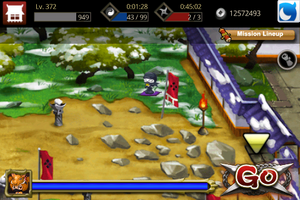 Missions
There are 7 missions in this path.
Log Jam
A full-fledged ninja can unleash multiple slashes in one swing. Train yourself by cleaving some trees!
- 3 energy
+ 99-106 zeny
Control the Weather
The ultimate ninja can call up storms and lightnings. Harness the water in the air to summon the rain clouds.
- 3 energy
+ 109-117 zeny
Sublime Sword Strike
Channel all your strength into the sword to cleave every target, and prove your martial skills.
- 3 energy
+ 115-123 zeny
When Nature Calls...
Let the mountains murmur to you of the nature of all things. Let the elements of shinobi--earth, fire and water-- into your soul.
- 3 energy
+ 122-128 zeny
Basic Training: Ninja Gear
Know your weapons, and let no tool be more than you can handle. Use your ningu well, and strike the targets!
- 3 energy
+ 125-129 zeny
Defeat the Ordeal Ogre
An ordeal ogre has been called from the abyss. Silence it and prove your mettle!
- 3 energy
+ 123-130 zeny
The Third Eye
The darkness knows not the distinction between friend and foes. Use your minds eye to find the rightful target.
- 3 energy
+ 124-131 zeny
Boss
Master is the boss of this path.
Storyline
Treasure
Scrolls - when completed earns a weapon called Steel Dagger
Kimonos - when completed earns an amor item called Stealth Greaves