The second treasure set in the Uncharted Territory event.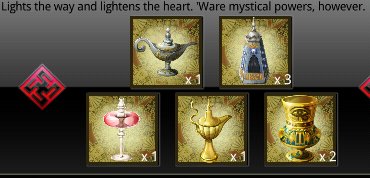 Lights the way and lightens the heart. "Ware mystical powers, however".
Pieces of Treasure
Dreamers Lamp
May or may not be home to a genie. Only a good polish will tell...
Daybreak
Some swear that lighting the lamp turns back time a few minutes.
Sweet Spark
Gives of fragrant smoke when lit. The incese is a rare as it is soothing.
Kettle Lamp
A lamp and a water boiler in one. Sometimes, a cup of tea is better than gold.
Hot Stuff
Its hiding place long lost, the lamp carries with it rumors of dark power.
Links to Other Pages
Community content is available under
CC-BY-SA
unless otherwise noted.