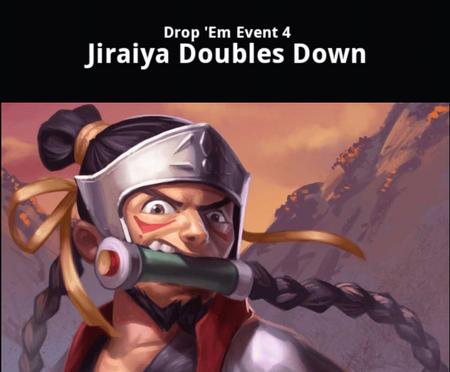 Tips and Tricks
Pattern 1: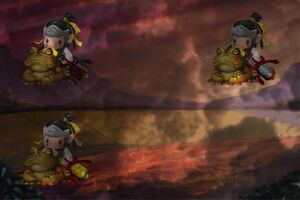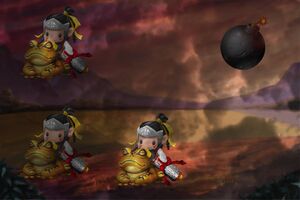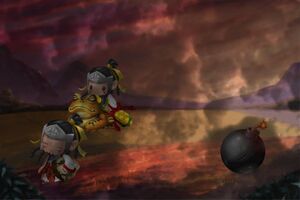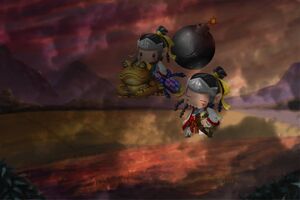 Although this is the f-bomb's smoke, the mini-raiya's are those of fire arrow.
Pattern 2:
There is a second pattern that starts the same as pattern 1. I started getting this pattern when I was getting exclusively Qilin scrolls for a while. You can get 9 primers (3 of each) with this pattern.
Screens one and two are the same as above.
On the third screen, the dragon gem is in the same place but the primer Jiraya is in the top left corner.
On the fourth screen, the dragon gem is a little higher than shown and the bomb is directly above the primer Jiraiya and travels down as the primer travels up (the primer also starts lower than in Pattern 1). It's best to get the primer Jiraiya as quickly as possible to avoid the bombs much as possible. Finally, there is a second primer Jiraiya in the top left.
Pattern 3:
Started getting a new pattern on 6/20/2012.
First Screen: Two primer Jiraiyas fly in from the bottom of the screen and stop in each of the top corners of the screen
Second Screen: Three primer Jiraiya. One bottom middle, one slides across the screen from left to right along the bottom and the other slides across the screen from left to right along the top (beware of bomb that is sliding from right to left that meets the primer Jiraiya in the middle).
Third Screen: There are some fast-moving Jiraiya. Dragon Gem Jiraiya in the top-left.
Fourth Screen: Two Primer Jiraiya will end in the top-left of the screen.
Tips
To Unlock The Peeper Clan: Get 9 or more primers in one mission.You need to use either F-bombs or Bright out to achieve this, regular arrows will only net you 8 primers.
During a max Double Bonding Challenge, Taking down Jiraiya by yourself will not give you any quota points.
Some players get different scrolls more commonly than others. For instance, some players will receive 5 brown, two yellow, and one purple, while others get 3 brown, one yellow, and four purple for an event mission with the same set of scrolls. If you have friends you can talk with,you should find out what their common scrolls are to see if trading is mutually beneficial or if you'll just throw each other the same scrolls you already have.
Before deciding that you've found a special way to pick out Real Jiraiya in real or fake, read this http://en.wikipedia.org/wiki/Anecdotal_evidence.
When using the bright out, please note, you can kill all 3 jiraiya's the "shadow" jiraiya's will give you a "black beauty" (lol!) oppurtunity, and you still get the golden oppurtunity from the real jiraiya, netting you 3 items. I think when I got it the black beauties were scoops and the golden was an item.