From treasures maps to secret histories, riddles are writ large in these records.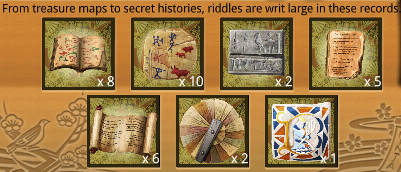 Pieces of Treasure
The Codex of Healers
An essential codex of great antiquity that records recipes for healing portions. Healers still follow this book in preparing their cures.
Warrior's Slate
A slate that records the basics of combat, also rumored to be a treasure map. The truth eludes believers and skeptics alike.
Warlock's Slate
Legend has it that this slate grants the power of flight.. Alas, no one can read it, and test this theory.
Book of the Ancients
A piece of history that records the life and times of the ancients. It is also a key that, when embedded in some hollow, unlocks the way to a treasure.
The Air Scroll
A secret treatise that lays out fighting techniques developed by a mythical ninja who mastered the winds. It takes an advanced ninja to learn these techniques.
Priestess' Fan
An anciet document in praise of a legendary priestess, with her accomplishments recorded on each leaf.
Feasts of Gods
Worshipped as a girft from the gods, this tome has been carefully guarded for millenia. Both the author and the content remain a mystery.
Collection Reward
Ultimate Blade
Links to Other Pages