Oasis is the third path in the Ninja Royale World 3 map.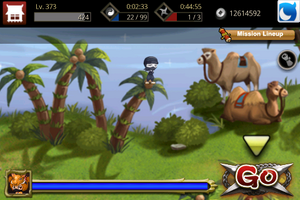 Missions
There are 7 missions on this path.
Help the Merchant
Oh no, the water merchant's camels have fled! the the merchant by locating his animals!
- 3 energy
+ 398-414 zeny
Water Duties
The village is short on water, possibly because of the heat. Pitch in and carry water!
- 3 energy
+ 406-423 zeny
The Dry Season
The water level in the oasis has suddenly dropped. Is it really drought, or someone's mischief? Find out!
- 3 energy
+ 414-431 zeny
Oasis Lockdown
The oasis has been sealed off by foes. Fight for the local people, and free the oasis!
- 3 energy
+ 422-439 zeny
Midnight Tail
The enemy seems to visit the oasis in the dead of night. Tail him back to the foe's hideaway!
- 3 energy
+ 430-448 zeny
Into the Den of Thieves
The hideaway is guarded by several sentries. Sneak in undetected!
- 3 energy
+ 438-456 zeny
Melee with Minions
The enemy is making a mass attack! Take down the minions and make your way to the boss without delay!
- 3 energy
+ 446-464 zeny
Boss
Treasure
Community content is available under
CC-BY-SA
unless otherwise noted.