Crests from a time-honored line of ninjas, with provence.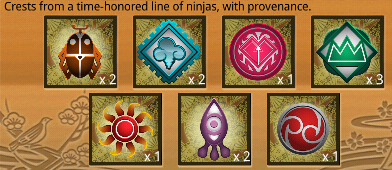 This treasure set can be found in Mt Zen - Village of Mizbe and Mt Zen - Brigands Woods
Pieces of Treasure
Beetle Crest
Ninjas of this crest are said to protect the earth. The earth is the bearer of great life.
Rain Cloud Crest
Rumor says that the bearer of this crest can control water. A treasure indeed in times of water shortage.
Allegiance Crwst
The line belonging to this crest were famouse for their allegiance to their lord, who in fact gave them this crest.
Sacred Peaks Crest
The crest protectors of the mountain. Even after the family who belonged to this crest passed, the mountains live on.
Sun Crest
This faimly gathered Ninjas from all around the world. No matter where people are from, we all live under the same sun.
Dark Eye Crest
A family crest expressing the contradiction of fighting to prevent war. It resembles both sadness and anger at the same time.
Den-Den Taiko Crest
The Ninjas of this family are said to have beaten on this drum all night long after a victorious battle.
Collection Reward
Expert Helmet
Links to Other Pages