Precision miniatures. Lovely to behold, useful to prep for infiltrations.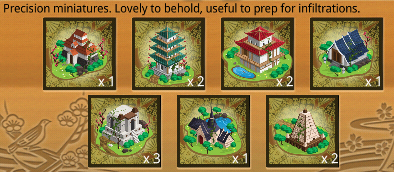 This treasure set can be found in Mt Zen - Brigands Woods and Mt Zen - White Oblivion
Pieces of Treasure
Gold Castle
A golden caste, built as a symbol of a great lord's might. The roof is made from pure gold.
Jade Tower
This multi-layered jade tower was made in an attempt to reach heaven and get nearer to God. Its owner ran out of strength mid-construction.
Scarlett Pavilion
This roof pavilion is said to have been built to flaunt the wealth and prestige of an aristocrat.
Migrant Bird Storehouse
This giant storehouse was built by a wealthy merchant to store his own assets. In reality it is said to be immense in size.
Old Temple
A small temple made from stone. It was built so long ago its origins are a mystery.
Shadow Church
This church was built by missionaries from the West. Original building techniques were used.
Foreign King's Grave
In this grave made from brink lies a king from a far-off land. No one knows how to enter it.
Collection Reward
Fallwind Scarf
Links to Other Pages